In this workshop, you will learn the basics of HST, filing HST returns, and claiming an HST rebate. It will also cover the HST exemptions.
In this workshop about understanding Harmonized Sales Tax (HST), you will learn:
When and how to register an HST account
How to calculate and file your HST return?
Carrying forward ITCs and Audits
Understand reporting periods, exemptions and filing deadlines
How does the quick method work with HST?
Get a reality check by attending this packed with information that will help you make your money work harder for you and keep more of your hard-earned money in your pockets.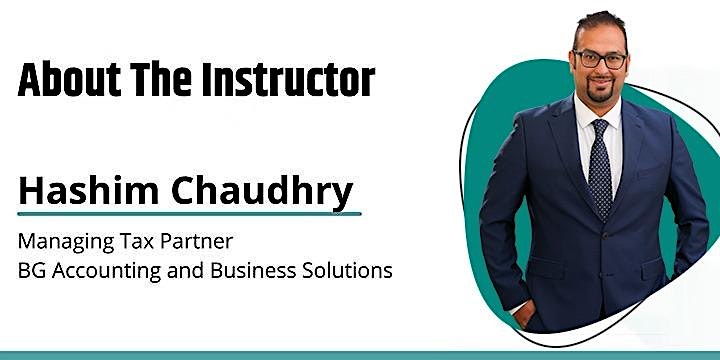 Hashim is a Strategist. He helps people convert their taxes into wealth-building engines. Every business and individual needs a Hashim on their side when it comes to navigating the tax matrix.
Hashim epitomizes "entrepreneur gumption". His passion and relentless pursuit of making people money, through his out-of-the-box business and tax solutions are truly remarkable. He helps clients grow their businesses while keeping more of their hard-earned money in their pockets – that's why his clients love him – and his positive energy is infectious.
With over 15 years of senior management and business development experience in a broad range of industries, Hashim brings a wealth of knowledge to his clients.
Hashim's knowledge extends to Canadian and US taxation, corporate, and small-business consulting solutions. In addition to his tax knowledge and business planning services, Hashim's clients also benefit from his extensive experience with financial planning and goal setting.