Venue
Venue At 1801
1701 West Trade Street, Charlotte, NC 28216
Charlotte, NC, US, 28216
Get ready for a fast-paced networking extravaganza where small business owners connect, collaborate, and make valuable connections in person
Join us for an exciting in-person event at Venue At 1801! Get ready to mingle, connect, and grow your small business network faster than ever before. Whether you're a seasoned entrepreneur or just starting out, this event is perfect for you.
Meet like-minded professionals, exchange ideas, and discover new opportunities. With our fast-paced networking sessions, you'll have the chance to make meaningful connections in a short amount of time.
Don't miss out on this incredible opportunity to expand your business horizons. Mark your calendar and get ready to boost your small business success!
Small Business Speed Networking
6pm – 9pm on Wednesday, January24th
@ Venue 1801 – 1701 West Trade Street Charlotte, NC
The speed networking will be followed by open networking
The spaces are limited!! Reserve your spot today!
Please be on time | Bring plenty of business cards!
What is Speed Networking?
Speed Networking is a fast-paced and effective way of making professional contacts. The purpose of speed networking is to encourage participants to make as many connections as possible. Each participant is allotted a period of time to introduce themself, varying from 1 minute to 2 minutes depending on the size of the group.
What to wear
You are not expected to dress up. But make sure you bring your awesome smiling self and a great attitude.
Bring Business Cards
Business cards are often exchanged during our speed networking events, and participants who hit it off can seek further opportunities for a one-on-one exchange. If you do not have a business card I suggest creating a digital business card before the event. It fast and easy and you can save 25% if you use my link – https://popl.co/?ref=SHANNAH
ATTENTION: As it is a very tight schedule and we start strictly on time. Please be on time! This is so everyone is set and ready to go with the instructions.
This event is proudly brought to you by the GospelHappenings.com, QC Info Broker and MingleBerry.com. Our purpose is to help create profound connections between entreprenuers and business owners.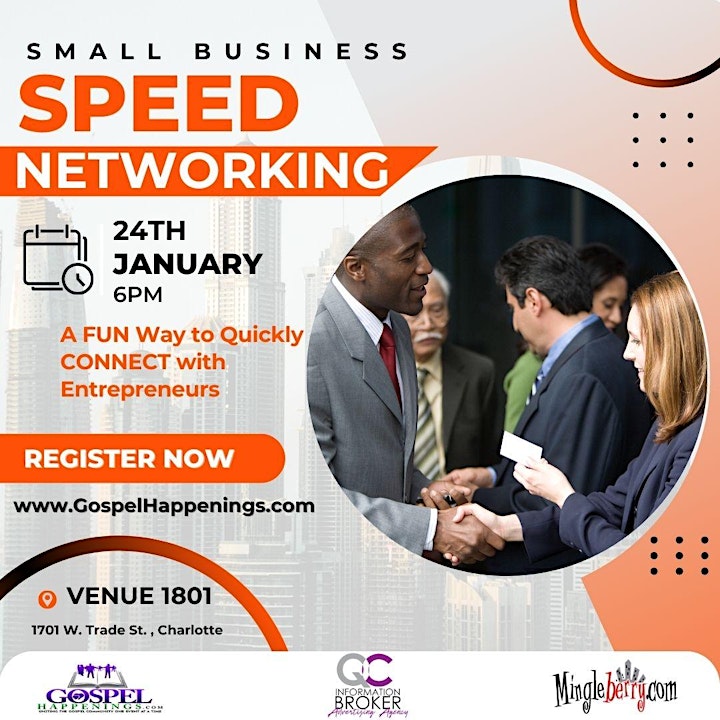 ———————————For SEO Only————————-
Charlotte Networking, Small Business Networking, Networking Events, networking, business networking, professional networking, online networking, networking online, networking opportunities, b2b networking, business growth, grow my business, business events, Business networking events, Queen City networking, Professional networking, Business networking events, Networking Business networking events,