Venue
SVN West
10 Van Ness Ave, San Francisco, CA 94103
San Francisco, CA, US, 94103
ProductCon is the largest product management conference series in the world!
Organized by Product School and structured around the hottest topics in Product Management, ProductCon takes place four times per year in San Francisco, New York, London, and Online, and gathers over 15,000 product professionals from all over the world.
ProductCon highlights Product Leaders from diverse backgrounds and leaders of color. You'll learn from inspirational Heads of Product, VPs, and CPOs from tech giants such as American Express, CNN, Disney, OpenAI and more.
You'll learn best practices behind the most successful products, and have the opportunity to interact with all our sponsor companies interested in recruiting PMs. Get ready to level up your product management skills, network with a global community of fellow product leaders, and have a ball!
Check out our latest conference
Agenda
8:00 AM – Registration
9:10 AM – Command the Room: Empower Your Team of Product Managers with Effective Communication. Ajay Arora, SVP of Product at Disney
9:30 AM – AI in Action: The New Age of Sales Automation and Intelligence. Aliisa Rosenthal, Head of Sales at OpenAI
9:50 AM – Metrics That Matter: Bridging User Needs and Board Priorities for Business Success. Trisha Price, CPO at Pendo
10:10 AM – Coffee Break
10:40 AM – The Future of Product. Carlos González De Villaumbrosia, CEO & Founder at Product School
11:00 AM – Panel Discussion on Data-Driven Customer Growth: Navigating Digital Transformation Through Insightful Customer Journeys.
11:30 AM – Designing Great Products: The Power of Design and Leadership. Robert Brunner, Chief Designer at Beats by Dr. Dre
12:00 PM – Lunch Break
1:00 PM – Customer-Centric PM: Anticipating Needs Across the Product Life Cycle. Lisa Yokoyama, SVP of Product at American Express
1:20 PM – Product Management in News & Media: Lessons & Opportunities in the Frontlines. Amanda Rottier, SVP of Product at CNN
1:40 PM – Coffee Break
2:10 PM – Panel Discussion on The Colliding Worlds of Product Management and Product Marketing.
Moderator: Jason GatoffCourse Creator and former Product Marketing Leader at Pendo & Optimizely.
Panelists:

2:40 PM – Beyond the Cart: Unleashing AI Wonders with Instacart's Shopping Revolution. Daniel Danker, CPO at Instacart
3:00 PM – After Party 🥳​ 🥳​ 🥳​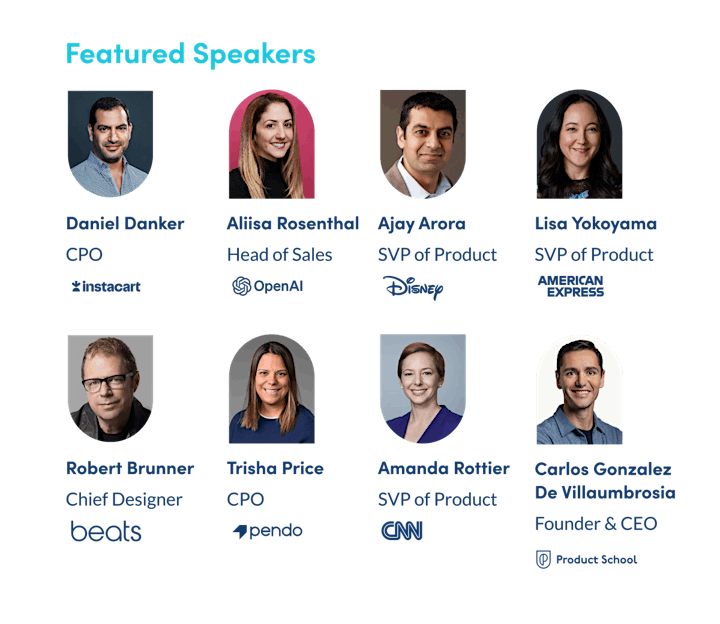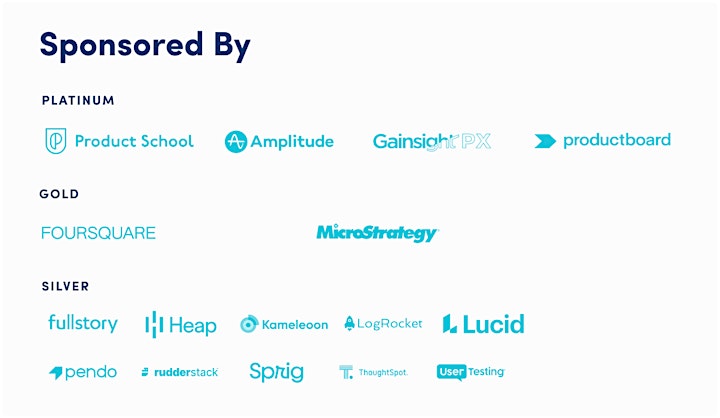 FAQ
What is #ProductCon?
ProductCon is a conference by Product School where attendees can delve into the future of Product Management. It will feature a mix of keynotes, breakout sessions, and panel discussions, all with the aim to provide actionable insights around how to build products users love.
Why should I attend?
Whether you're a startup or a Fortune 500, an individual contributor or leading a team, what you learn during ProductCon will transform the way you go about building products. You'll come away with concrete ideas you can apply in your company right away, along with fresh contacts that may become customers or partners in the future.
Who is attending?
Attendees of ProductCon are Senior Product leaders; Sr. Product Managers, Directors of Product, Heads of Product Management, VPs of Product, and Chief Product Officers.
What does my on-site ProductCon ticket include?
It includes access to the conference and refreshments. You'll also get access to our official parties, some way cool swag, and all the recordings and slides.
I want to send my team. Are there group discounts?
Yes, we offer a Group Discount with 5 tickets for the price of 3! If you are more than 5 attendees from the same company, please get in touch with us to request a unique group discount.
Do you provide any discounts for students, non-profits, startups, etc?
Yes, we provide a limited amount of early-bird tickets. We also provide free tickets to watch the conference live online and receive all the recordings and slides afterward.
Can you advise me on how to convince my boss that ProductCon is worth the investment?
Yes, you can download our convince your boss Google Doc template. 
I'm international and need to order a visa in order to come to ProductCon. Can you help with this?
Yes, we can write you a letter of recommendation for you to apply for a visa. Get in touch with your name, business address, and ticket order number. Please check with your local government office for any visa waiting periods. If for some reason you cannot obtain a visa, we will refund your ticket.
Will ProductCon be recorded?
Yes, it will be recorded by our multimedia team and the videos edited for your viewing pleasure. Make sure to get your free online ticket in order to receive all the recordings and slides.
How do I become a Sponsor?
Get in touch with us here
Are there volunteer opportunities for this event?
Yes! Apply here.
How can I contact the organizer with any questions?
What's the cancellation/refund policy?
We don't offer refunds but you can transfer the ticket to a colleague or friend. Any ticket transfers must be made at least 48 hours before the event starts.
Disclaimer: by registering for this event I agree to receive phone and email communications from Product School and all sponsor brands. Our Privacy Policy and Terms of Service.