Venue
Stanford University (details to be announced)
450 Jane Stanford Way, Stanford, CA 94305
Stanford, CA, US, 94305
Engage with top-tier startup founders, VC leaders, and growth executives at the "Path to Growth" tech conference at Stanford on Nov 18.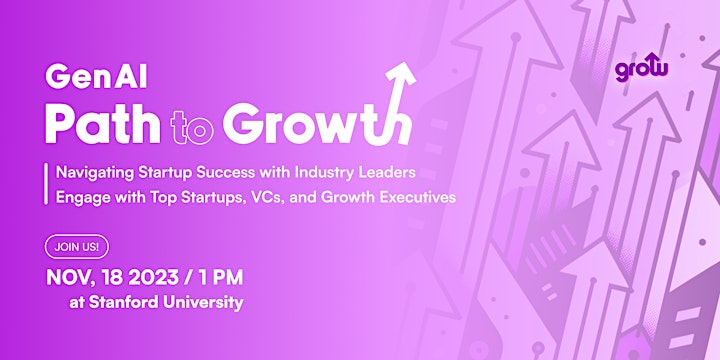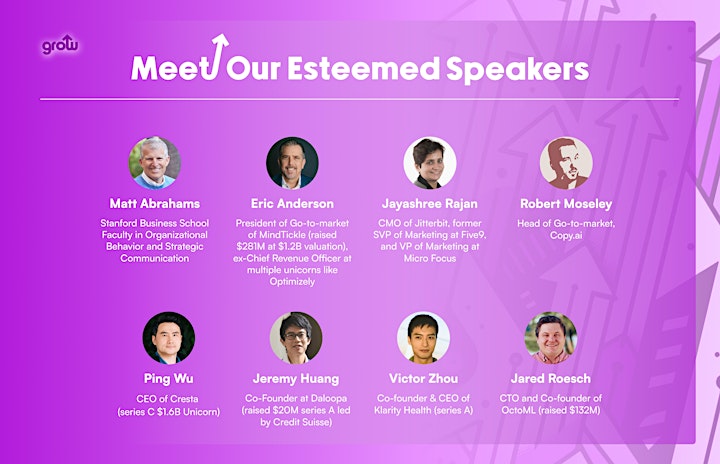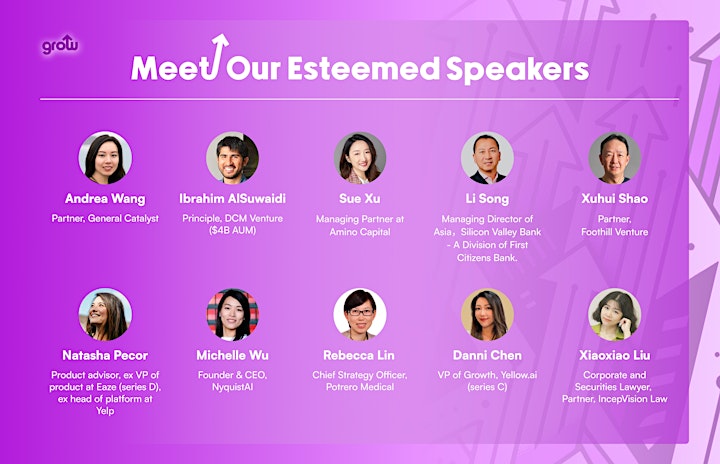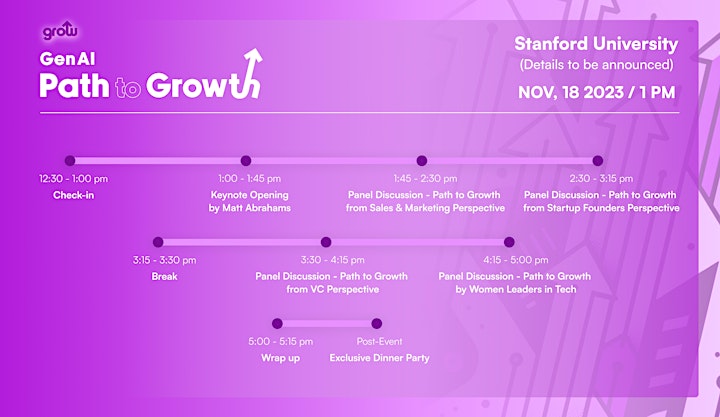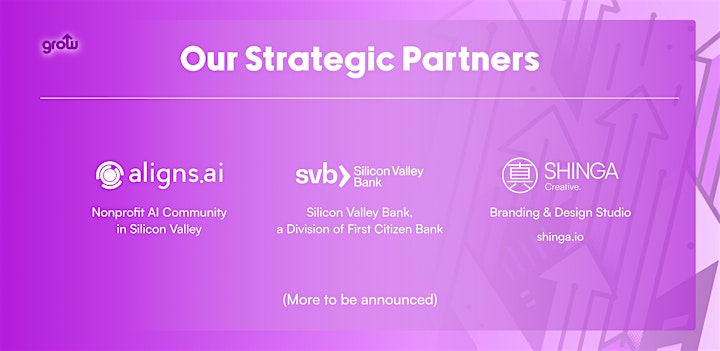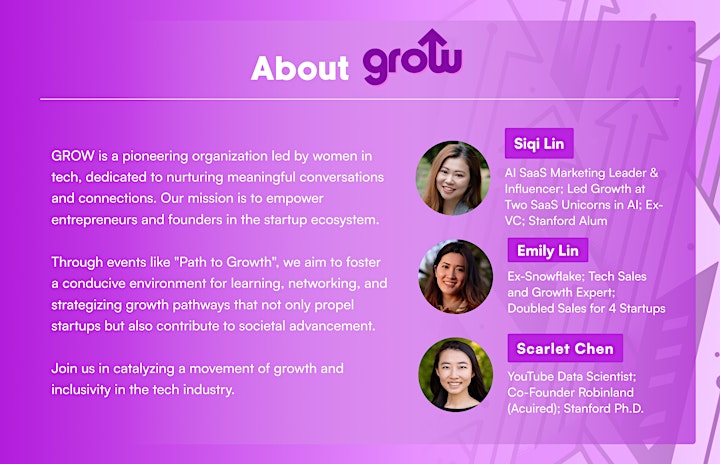 Path to Growth:
Navigating Startup Success with Industry Leaders
Delve into the secrets of success from the playbook of one of Stanford Business School's most renowned courses. Gain invaluable wisdom from the titans of industry – investors, CEO, CRO, and CMO – all while rubbing shoulders with the masterminds behind unicorns.
Discover the art & science of hyper-growth for startups, from zero to reaching $200M+ annual revenue. Join us for this transformative gathering and supercharge your business acumen. This is your chance to connect, learn, and grow like never before!
Featured Guests:
Matt Abrahams: Stanford Business School Faculty in Organizational Behavior and Strategic Communication
Eric Anderson: President of Go-to-market of MindTickle (raised $281M at $1.2B valuation), ex-Chief Revenue Officer at multiple unicorns like Optimizely.
Jayashree Rajan: CMO of Jitterbit, former SVP of Marketing at Five9, and VP of Marketing at Micro Focus
Robert Moseley: Head of Go-to-market, Copy.ai
Ping Wu: CEO, Cresta (series C $1.6B Unicorn)
Jeremy Huang: Co-Founder at Daloopa (raised $20M series A led by Credit Suisse)
Victor Zhou, Founder & CEO of Klarity Health (series A)
Jared Roesch: CTO and Co-founder of OctoML (raised $132M)
Andrea Wang: Partner, General Catalyst
Ibrahim AlSuwaidi, Principle, DCM Venture ($4B AUM)
Sue Xu, Managing Partner at Animo Capital
Xuhui Shao, Partner, Foothill Venture
Li Song, CPA, Managing Director of Asia, Silicon Valley Bank – A Division of First Citizens Bank.
Natasha Pecor, product advisor, ex-VP of product at Eaze (series D), ex-head of platform at Yelp. Most influential women in Bay Area business by SF Business Times in 2019
Michelle Wu, Founder & CEO, NyquistAI
Rebecca Lin, Chief Strategy Officer, Potrero Medical
Danni Chen, VP of Growth, Yellow.ai (series C)
Xiaoxiao Liu, Corporate and Securities Lawyer, Partner, IncepVision Law
(More speakers to be announced)
Date: November 18, 2023
Location: Stanford University (details to be announced)
Who Should Attend?
Entrepreneurs, investors, business school students, engineers, and anyone keen on delving into growth executives of startups, this conference is crafted for you.
Post-Event Dinner Party:
An exclusive dinner party with all our speakers offers a unique opportunity for intimate networking and knowledge exchange.
Get your tickets now and propel your path to growth with insights from the industry's finest!
About GROW
GROW is a pioneering organization led by women in tech, dedicated to nurturing meaningful conversations and connections.
Our mission is to empower entrepreneurs and founders in the startup ecosystem. Through events like "Path to Growth", we aim to foster a conducive environment for learning, networking, and strategizing growth pathways that not only propel startups but also contribute to societal advancement.
Join us in catalyzing a movement of growth and inclusivity in the tech industry.