Online Therapy: Exploring Creative Solutions in a Global Context – ACTO Online Conference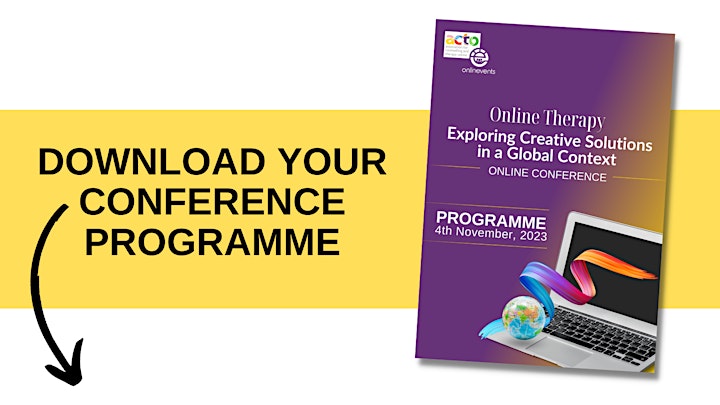 CLICK HERE TO DOWNLOAD YOUR PROGRAMME
TICKETS
Enjoy the flexibility to select your preferred pricing for conference admission. Regardless of the price you choose, all tickets provide access to the LIVE conference and event recordings.
____________
WELCOME
Discover how therapists across the world are using exciting and creative opportunities when working with their clients. Prepare to be challenged to think outside the box of the cultural and social norms in your work place.
ACTO is a global organisation with members all over the world. Working online has been prominent during the recent global pandemic with differences and difficulties for those wanting to access therapy highlighting inequalities.
The conference will take you on a journey through different countries, learning new ways of working and will challenge you out of your comfort zone.
With differences in therapeutic practice, how can we learn from each other, developing our knowledge and skills? What are the creative opportunities for marginalised groups of people worldwide, enabling all to access therapy? How do we work alongside colleagues who prefer face to face working and take online therapy forward?
Working online is still not equal around the world. Not everyone in every country has the opportunities that many of us in the some parts of the world.
This day we want to focus on:
Reaching out to those working online worldwide – how do we work differently depending on where we live? How do we connect internationally and support each other? And can we challenge the euro-focussed way of working that many of us in Western culture have?
How do we reach those clients in remote locations? And those who do not have that much access to modern technology? How do we make sure nobody is left behind?
We want to challenge ourselves as online therapists to work in different ways that serve a greater part of our populations like the the deaf community, neuro-divergent clients as well as across gender, race and cultural differences. post-pandemic
To finish we want to look where we are nowand how we are going to go forward. How do we keep what we gained during the pandemic and build on it? We need to take it beyond just a measure to use when a pandemic happens. At ACTO we want to counter the negativity that still exists about working online.
We hope you will join us for a day that will challenge and educate and will bring you together with therapists from across the UK and around the world in our chatroom enabling you to actively make new connections.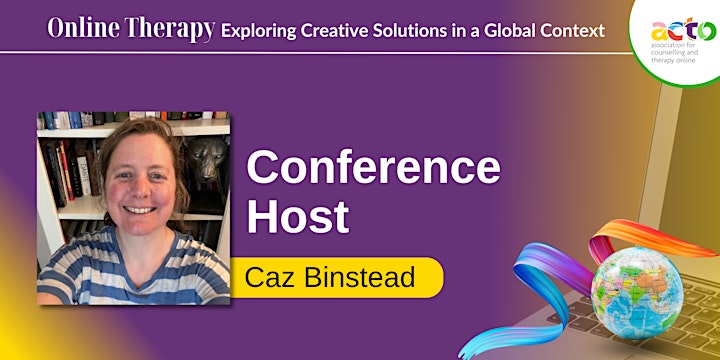 Caz Binstead is an experienced therapist, supervisor and facilitator, working full-time in private practice. She specialises in the growth and maintenance of both ethical, and, thriving practice, and was instrumental in the creation of the Private practice Toolkit, at the BACP, in which she acted as the private practice executive divisional lead for. She is currently co-authoring a book in this area, with a counselling psychologist colleague (due to be published by Routledge) . She is co-lead for #TherapistsConnect – an open community of therapists from across the world, whose main aim is to broaden conversations around therapy, and build greater connections between therapists. She has hosted numerous large-scale therapy events for both Onlinevents and other organisations, including the BACP.
SPEAKERS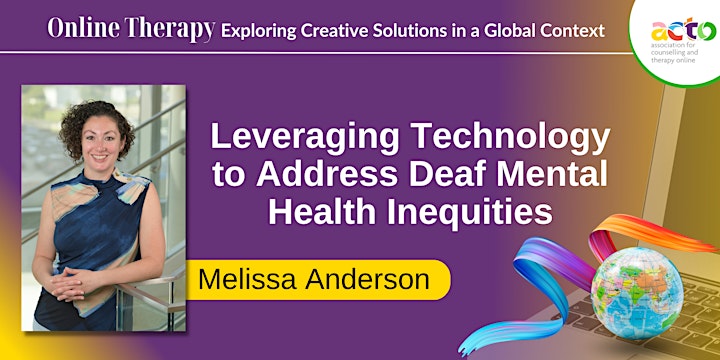 Melissa Anderson – Leveraging Technology to Address Deaf Mental Health Inequities
The U.S. Deaf community – more than 500,000 Americans who communicate using American Sign Language (ASL) – experiences heightened rates of mental health conditions compared to those from the general population. Hearing individuals have access to dozens of validated mental health treatments, yet there are no evidence-based treatments to treat any mental health condition with Deaf clients. Available mental health treatments fail to meet Deaf clients' unique language access needs. Leveraging extensive community engagement to address these barriers, Dr. Anderson has led teams of Deaf and hearing researchers, clinicians, filmmakers, actors, artists, and Deaf people in recovery to develop and evaluate innovative treatment adaptations that are uniquely and expertly tailored for Deaf signing people. This presentation will outline our process of community-engaged intervention development, as well as showcase examples of completed interventions and interventions currently in the works.
____________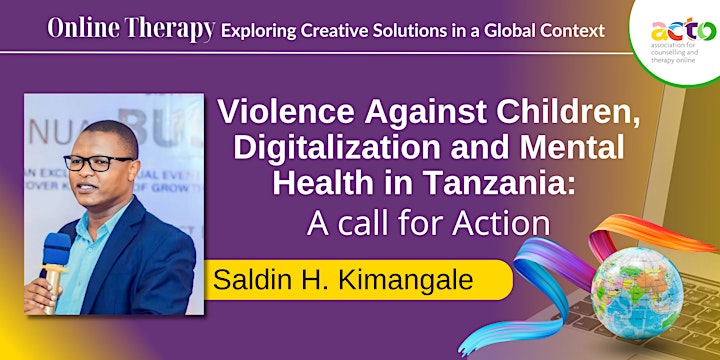 Saldin H. Kimangale – Violence Against Children, Digitalization and Mental Health in Tanzania: A call for Action
Violence against children in Tanzania is still a topic of discussion, as three-quarters of Tanzanian girls and boys have experienced physical abuse prior to age 18, let alone emotional, verbal and sexual abuses. Violence are widely happening in homes, and in school settings, where protection and safety of the children are highly expected. The interventions on violence against children is a multi-sectoral task, consisting of government ministries and social welfare, the police and legal system, education and health care sectors and civil society. School Mental Health Program and positive parenting might play a role as preventive measures. Mental health services are increasingly digitalised globally but not in Tanzania and more specifically not with children in Tanzania. Children and youth people suffering from violence and poor mental health are at greater risks of digital and, therefore, social exclusion. This suggests that children and youths' mental health cannot be discussed thoroughly without addressing digitalisation, and vice versa. It is important to foster more equitable access to Internet services and to develop young people's digital skills so as to ensure they can access mental health services from well- equipped mental health services providers on their pace and space.
____________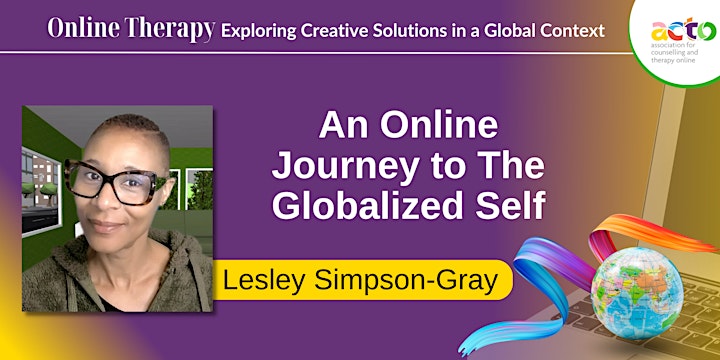 Lesley Simpson-Gray – An Online Journey to The Globalized Self
In this workshop Lesley examines how her creative journey combining the arts, technology and traditional Ghanaian frameworks of well-being has informed her own process of healing. She explores how this holistic experience underpins her transcultural practice and how it supports her clients who both embrace and displace aspects of their cultural identity.
Lesley guides you through a therapeutic experience using an immersive visualization and 3D tools as you reflect on ways to adapt your frameworks and enrich your online practice.
____________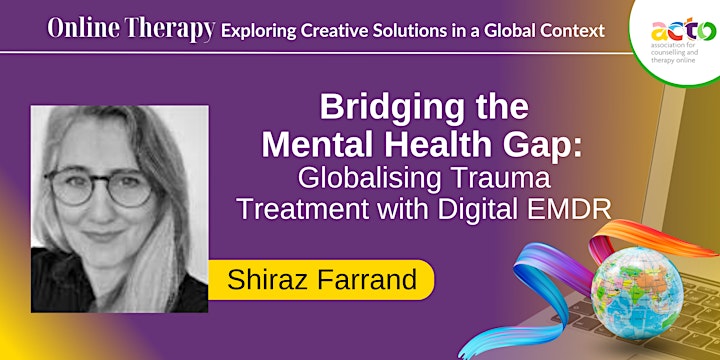 Shiraz Farrand – Bridging the mental health gap: globalising trauma treatment with digital EMDR
EMDR is an evidence based trauma intervention recommended by the World Health Organisation for the treatment of PTSD. Although the past 30 years has seen thousands of licenced mental health therapists trained in this powerful approach, access to quality training and supervision has not been equitable. The treatment gap is greatest in specific communities amongst higher income countries as well as low and middle income countries, arguably where the need is greatest.
This presentation will focus on the efforts by the EMDR international community, inspired by its founder Francine Shapiro, to address these issues through their Humanitarian Assistance Programmes, group and task sharing interventions all of which have adapted well to digital opportunities post the global Covid pandemic.
This will be followed by a one hour workshop which will introduce several Group EMDR protocols and an experiential EMDR informed exercise for self-care.
____________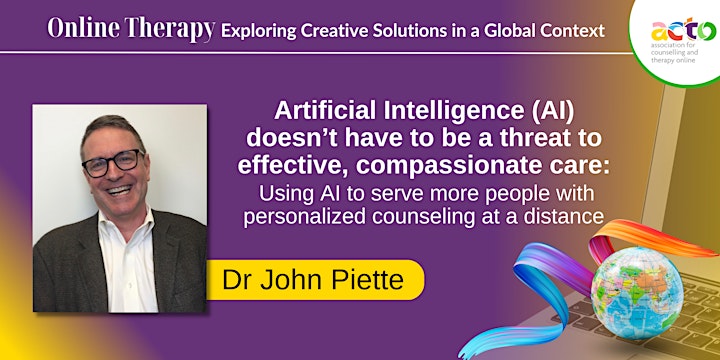 Dr John Piette – Artificial Intelligence (AI) doesn't have to be a threat to effective, compassionate care: Using AI to serve more people with personalized counseling at a distance
Psychotherapists and other counselors are understandably worried that the advent of artificial intelligence (AI) may mean that mental health care is less personalized and effective, while dedicated therapists struggle to compete with AI bots. While these concerns are justified, we have found that AI tools can support therapists while increasing access to personalized mental health services. In one comparative effectiveness trial, we found that an AI-supported program of therapist-delivered pain CBT achieved equal or possibly better outcomes than standard telephone-delivered pain CBT, but with less than half the therapist time. In this session we will review these applications of AI, and as time permits, discuss some of the ways AI researchers are working to create algorithm that reflect community values, both in industrialized countries as well as in our work in low- and middle-income countries of Latin America.
____________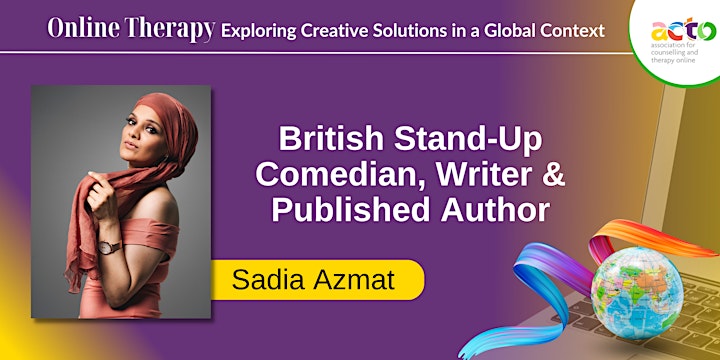 Sadia Azmat is a British stand-up comedian, writer and published author of Sex Bomb. In 2018 Sadia launched her critically acclaimed BBC podcast 'No Country For Young Women' which was named as one of the 'Best Audio 2018' by the Observer and Apple's Top picks 2018.
____________
Member Benefit – TAC Access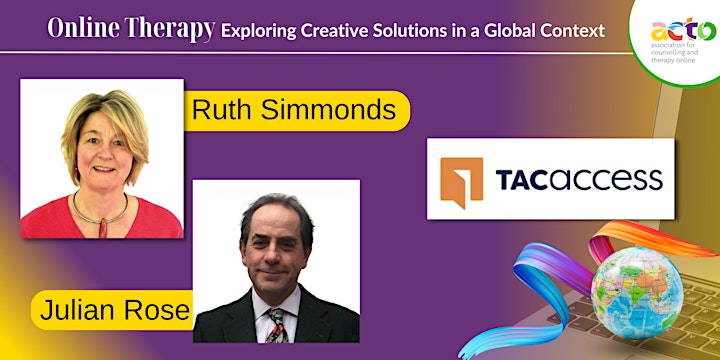 TAC Access is an innovative online platform that connects therapists with children and young people quickly and efficiently. It was conceived and devised by two teachers who were determined that young people should have a voice in choosing therapists and that those therapists should be supported and properly paid for the vital work that they do.
The initial concept was launched in March 2022 and has rapidly evolved with support and feedback from users and stakeholders. It now offers a one stop solution to the provision and commissioning of counselling and therapy for children and young people.
Therapists have access to parents, schools, colleges and other commissioning groups throughout the UK. Latest developments mean that everything from bookings through to payment can be handled through the platform taking care of the day to day admin hassles and leaving you free to do what you do best.
Ruth Simmonds and Julian Rose join us to tell us more about how TAC Access works and to answer your questions.
____________
Member Benefit – Kara Connect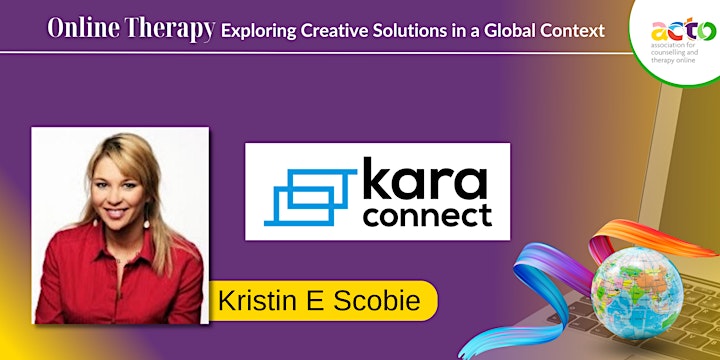 Kara Connect is revolutionising the EAP market with our effective new approach. We connect employees in need of support with the best mental health and personal wellbeing professionals. Our solution, created by professionals for professionals, offers best-in-class software designed for counsellors, coaches, and therapists. It allows them to manage various aspects of their practice, including running video sessions, managing client records, scheduling, taking payments, and more. All of this is available in one place.
By using Kara Connect, you not only receive a fully functional tool to manage your practice, but you also become a preferred partner to our business clients. This allows you to support their employees and their families.
Kristin works with Kara Connect as an Innovative Health & Wellbeing Consultant. She uses her expertise as a Social Change Strategist and Health Advocate, to drive transformational changes within Employee Health and to create a digital ecosystem with access to multidisciplinary and collaborative professional wellbeing and support services through Kara Connect. Her background is in therapy, and public and global health with race, ethnicity and conflict as expertise. Kristin holds extensive health and welfare sector experience and expertise in innovative digital health transformation.
____________
SPEAKER BIOS
Our programme of international speakers will give you a unique perspective on online therapy and counselling and the issues clients and practitioners face in various countries across the world:
Mr Salman Kimangale: A Clinical Psychologist and School Counsellor and a member of Tanzanian Psychological Association (TAPA) and the Mental Health Associations of Tanzania (MEHATA), the Global Psychology Alliance (GPA) and the International Council of Psychologists (ICP). He will deliver a presentation on Tanzania's School Mental Health programme to discuss corporal punishment and violence against children within aspects of Tanzanian society.
Dr Melissa Anderson is a Psychologist and Clinical Researcher, Associate Professor of Psychiatry, a Co-Director, DeafYES! Center for Deaf Empowerment and Recovery, a Deputy Director, Implementation Science & Practice Advances Research Center (iSPARC) UMass Chan Medical School. Melissa offers outpatient therapy to Deaf clients recovering from trauma, addiction, and comorbid disorders and conducts community-engaged research on best approaches for working with Deaf clients. Melissa will present her innovative work that will inspire participants to be more inclusive in their practice.
Dr John Piette is a Professor of Health Behaviour and Health Education, and of Internal Medicine Director, Center for Managing Chronic Disease Senior Research Career Scientist, VA Ann Arbor Center for Clinical Management Research. John presents his brief intervention work in Honduras. John will also present his thought- provoking AI intervention therapeutic work. John is keen to open the space for discussion on AI and the impact on us as practitioners.
Lesley Simpson-Gray is a Cyber Psychotherapist, and Founder at Mycybertherapyspace VR® and Director of CYP Division of ACTO. Lesley will share her innovative work and research on transcultural therapy with a UK & Caribbean emphasis exploring non-euro centric therapeutic approaches.
Shiraz Farrand is an EMDR Consultant and CBT therapist with many years of experience in the NHS and private practice. She is the President of Trauma Aid UK which offers EMDR pro-bono training and supervision to underrepresented countries affected by conflict and natural disaster. Following the 2017 spate of UK terrorist attacks, Shiraz co-founded the Trauma Response Network a charity which provides pro-bono EMDR Early Intervention to UK people affected by a mass traumatic incident. As a Senior Group EMDR Trainer she has introduced this brief intervention into the UK's NHS services and trained internationally including Bosnia, Ukraine, Iraq, Pakistan, Egypt and most recently Serbia. Responding to the COVID19 pandemic, Shiraz developed a self-help website with EMDR informed exercises for frontline staff and the general public. www.1stcontact.net which has been translated into several languages. She is actively involved with the NGO Global Initiative for Stress and Trauma Training (GIST-T) (https://gist-t.org/) whose Traumatic Stress Relief (TSR) programme aims to train Para and Allied Professionals from Low and Middle Income countries to deliver low intensity evidence based trauma interventions. With her GIST colleagues she is co-author of a chapter on scaling up trauma treatment through Low Intensity task-sharing in the upcoming book on Group EMDR published by Springer.
We are absolutely delighted to introduce Sadia Azmat, a contemporary British Asian comedian who is pushing the limits with her clever wit, thought-stirring observations, and irresistible charisma. In the realm of comedy, Sadia Azmat is much more than just a performer, she is a comedic powerhouse reshaping convention. Get ready for a dose of levity and enlightenment.
Each presentation aims to inform, educate and to inspire you; providing you with practical ideas that will help you to build your knowledge and competencies as an online practitioner.
____________
RECORDING
This conference will be recorded and the recordings are included in the admission ticket of the conference. This will be useful for colleagues who are not able to attend the event live and also for those who attend the event live and want to watch it again.
ZOOM
This conference will be hosted on the Zoom meeting platform where we will use our cameras and microphones to interact with each other as a group.
___________________________
All the colleagues at ONLINEVENTS and the presenters we collaborate with are committed to working in a manner consistent with the BACP Ethical Framework, which can be accessed on the link below. When registering for this event you are agreeing to be present and interact in a manner that is consistent with this Framework.
https://www.bacp.co.uk/events-and-resources/ethics-and-standards/ethical-framework-for-the-counselling-professions/