Venue
Molloy University - Suffolk Center
1100 Broadway, Amityville, NY 11701
Amityville, NY, US, 11701
The Nonprofit Resource Hub in Partnership with Molloy University Invites You to Join Us at the Annual Half-Day Leadership Conference!
Discover the future of effective nonprofit leadership at this year's conference.Designed for C-Suite Executives, nonprofit board members, and Up and Coming Leaders, this conference offers a thorough exploration of the evolving role of nonprofit leaders. Uncover the qualities, skills, and strategies that define a successful leader and gain insights into navigating the challenges and opportunities in the nonprofit sector. Hear from world-renowned nonprofit fundraising expert, author, and business coach, Laura Fredricks, who will discuss the three keys to effective leadership in today's nonprofit landscape.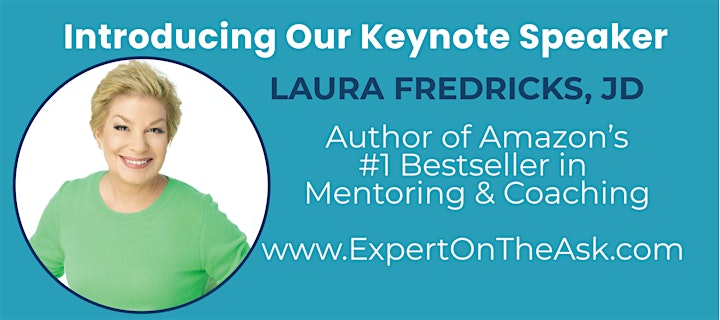 Laura Fredricks, JD, who as CEO and Founder of THE ASK© and an international consultant, trains, and coaches individuals, businesses, and nonprofits on How to ASK and GET exactly what you want. She is the first to combine the most trusted professions, law and philanthropy. "Laura's 5 Laws on ASKing" have brought resounding sustainable monetary success worldwide. She has helped hundreds of global executives, industry trailblazers, marketing and communication leaders, boards, fundraisers, entrepreneurs, teenagers, artists, philanthropists, and everyday people get their Best Professional and Personal Life Possible, through THE ASK.
Laura's newest book, her 7th: "Hard Asks Made Easy: How to Get Exactly What You Want" (Advantage June 2023) is Amazon's #1 Business Mentoring & Coaching.
She was bestowed the Ralph E. Chamberlain Award for extraordinary leadership in the field of fundraising and lifetime of service to the profession and New York Nonprofit Network's 50 Over 50 Award for excellence in Media and Philanthropy. Since 20025 Laura has been teaching "The Art of the Ask: Effective Communications and Negotiation Strategies" at New York University School of Professional Studies
Laura recently became a member of the Catskill 3500 Club having summited all 35 high peak mountains in the winter season. She also hikes in the Adirondacks and loves to kayak.
Learn more about Laura: www.ExpertOnTheAsk.com
About The Hosts!
Molloy University's School of Business is committed to the preparation of outstanding business leaders with the dispositions, skills, and knowledge required to be leaders in the workplace and the community. Thanks to a generous Professional Development and Community Capacity Building grant from the Mother Cabrini Health Foundation, the School of Business is supporting opportunities for nonprofit organizations on Long Island to receive training, mentoring, and technical assistance. For more information, visit https://www.molloy.edu/academics/schools/business/mother-cabrini
Nonprofit Resouce Hub is a trade association whose mission is to serve, be a resource to, educate, and connect its members to the nonprofit community. At the same time, NRH serves the nonprofit sector as a bridge connecting nonprofit organizations to resources and to each other. Learn more here:https://nonprofitresourcehub.org/

Thank you to Our Sponsors!