Learn and gain the skills you need to kickstart your career in cybersecurity with the Black Women in Cyber Masterclass Series!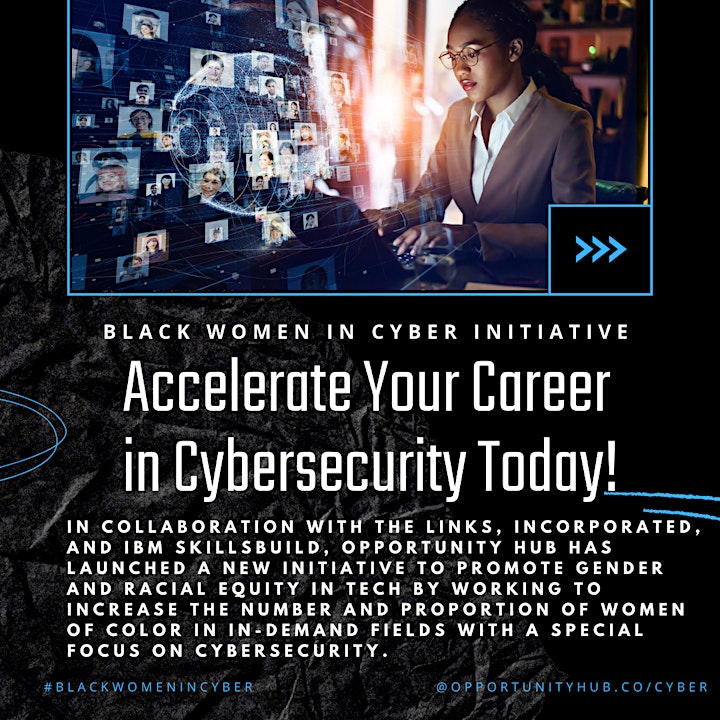 Overview
The Black Women in Cybersecurity Initiative (BWiC) is a new initiative to promote gender and racial equity in Tech by working to increase the number of Black women in Cybersecurity. In partnership with The Links, Incorporated, the Black Women in Cyber Initiative is the new program by OHUB that will work to advance the number and proportion of Black women in the field of cybersecurity. The initiative will provide early exposure, expert-led training, employer-recognized certificates, and resources that will prepare women for the high-growth field of cybersecurity.
Why Now?
According to Cybersecurity Ventures, the global cost of cybercrime is expected to reach six trillion dollars by the end of this year and $10.5 trillion dollars by 2025. Even as companies boost their digital security teams to stay safe online, there are still disproportionately fewer women and people of color in cybersecurity roles. The new initiative by OHUB will provide women of color greater access to cybersecurity training, which will empower them to be job-ready and become strong contributors to the field.
The Masterclasses at Glance
In BWiC's Ask Me Anything masterclass series, we'll be offering fresh perspectives on breaking into the field. No two professionals are alike, but there are a lot of guidelines and winning strategies that can help you to be successful. What skills and certifications are highly valued? What career paths can you pursue? These questions and many more will be answered during these sessions.
Breaking Into Cybersecurity: How to Get Started in the Field
These sessions will familiarize you with the different roles and responsibilities of key players in the field and the tools and technologies used to protect digital information. Sessions will also focus on introducing you to key cybersecurity learning paths, terminology, and resources to help you start preparing to enter a growing industry.
Session 1: October 27, 2:00 pm-3:00 pm EST
Session 2: November 17, 2:00 pm-3:00 pm EST
The Skills to Win the Job
In these segments, our experts will unpack the skills and certifications you need to best meet changing industry trends and challenges and deepen your understanding of the leading-edge self-paced and immersive boot camp options available.
Session 3: December 15, 2:00 pm-3:00 pm EST
Session 4: January 19, 2023, 2:00 pm-3:00 pm EST
Keeping Your Cybersecurity Career & Skills on Track
As we wrap up this segment, this is designed to empower you to become leaders in cyber. With limitless growth opportunities and careers available in government, business, industry, and further education, the future looks bright for those looking to break into the start-up ecosystem, workforce, and investment alike. Find the inspiration and tools to get involved at any level or become a more informed, engaged professional.
Session 5: February 23, 2023, 5:00 pm-6:00 pm EST
Session 6: March 30, 2023, 6:00 pm-7:00 pm EST
Moderator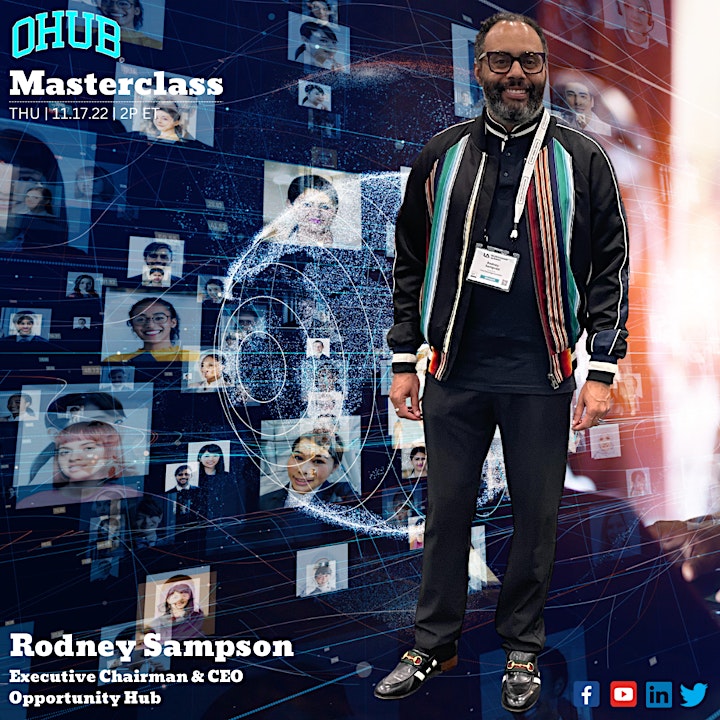 Masterclass 1 Guests
Thu | Oct 27 | 2P ET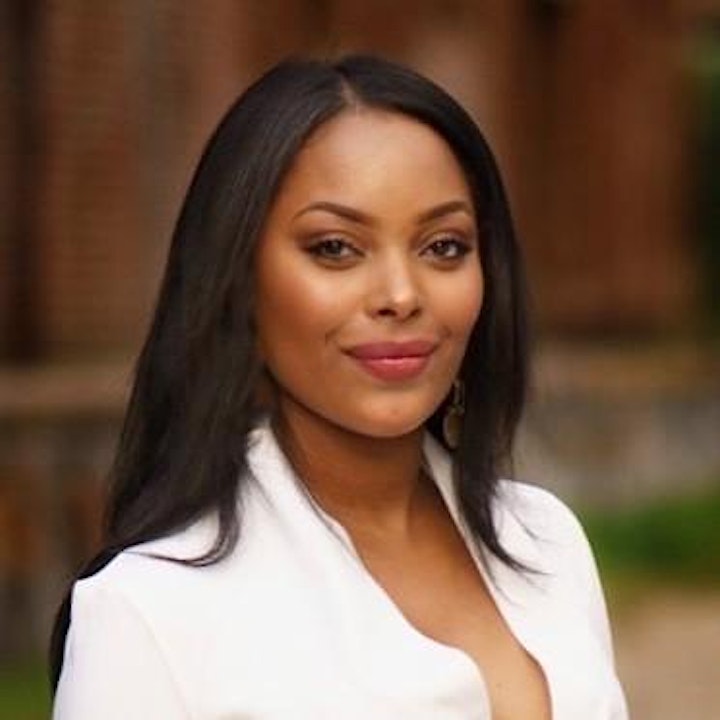 Crystal C. Grant, MSISA, CISM, GSLC, Head of Information Security, LegalBadge
As an experienced information security leader, with over 16 years of expertise in senior leadership roles, Crystal has a strong background in developing and implementing security solutions for Fortune 100 companies. With hands-on experience in both start-ups and established organizations across multiple industries – including fin-tech, technology security, e-commerce and education – she'll be sharing her journey into the field and providing some behind-the-scenes tips on how to build and navigate the field.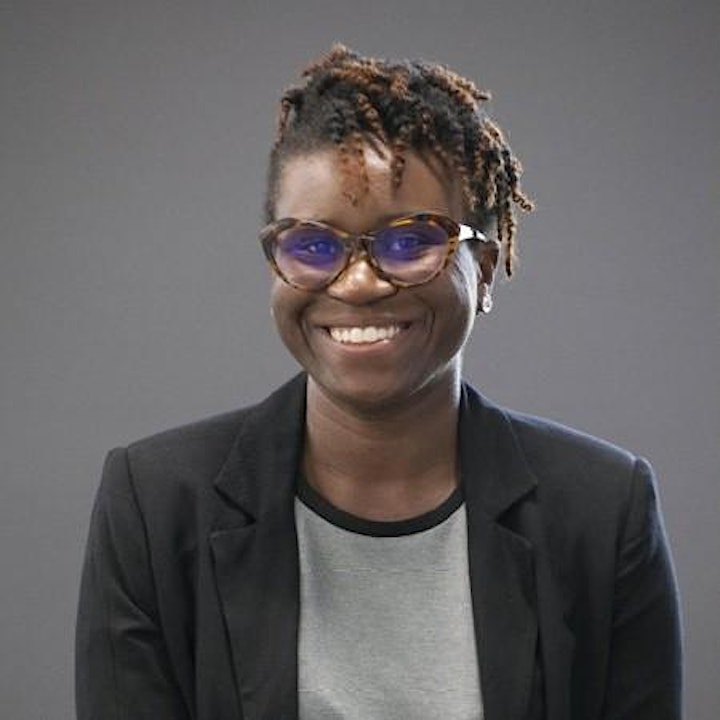 Jasmine Owens, Information Security Audit and Compliance Specialist, World Wide Technology
Jasmine loves helping her community stay safe from cyber threats and believes that everyone has the opportunity to make a positive impact through cybersecurity. She currently works as an Information Security Audit and Compliance Specialist for World Wide Technology, while also giving back to the community through speaking engagements, participating on a cyber advisory board, and teaching at Savvy Coders. For Jasmine, it is all about making sure her community can thrive and create lasting legacies for their families and future generations.
Masterclass 2 Guest
Thu | Nov 17 | 2P ET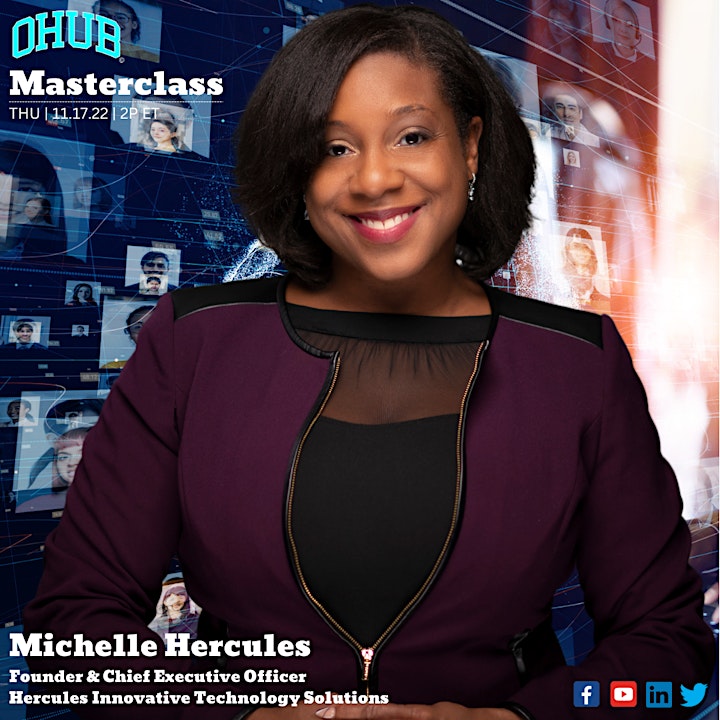 Michelle Hercules, Founder & CEO, Hercules Innovative Technology Solutions
Michelle Hercules is the Founder & CEO of Hercules Innovative Technology Solutions (HITS). Michelle launched Hercules Innovative Technology Solutions as a cybersecurity consulting and mentorship engagement company focused on creating technology pathways for success. Michelle is also a former Senior Information Technology Compliance & Privacy Program Manager and currently works in the Information Technology Workforce Development space where she is building out a comprehensive IT Workforce Upskilling framework and providing subject matter expertise in meeting cybersecurity regulatory mandates and industry best practice standards. Providing STEM mentorship and workforce development training are passions that she holds near and dear to her heart and she looks forward to sharing 20+ yrs of industry insight.
Masterclass 3 Guest
Thu | Dec 15 | 2P ET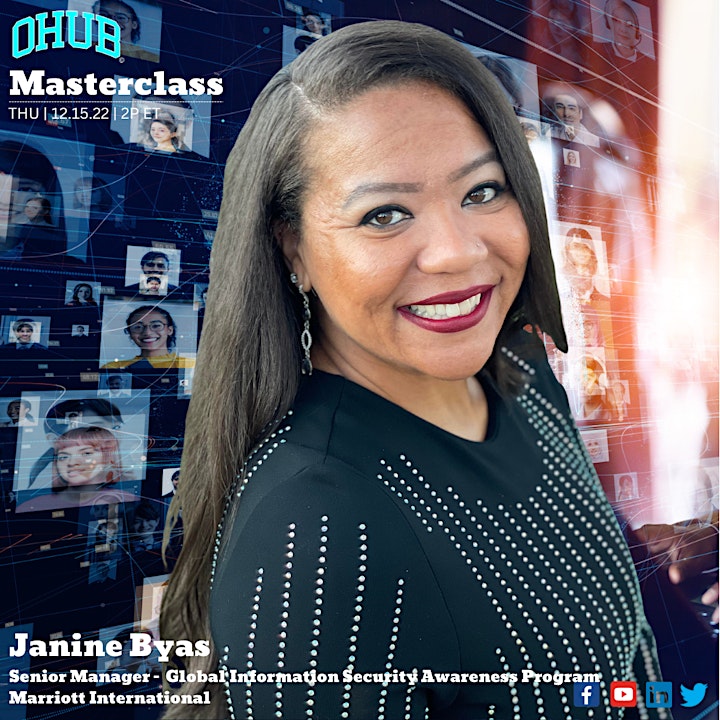 Janine Byas, Senior Manager, Marriott International's Global Information Security Awareness Program
Janine Byas has a passion for ensuring people are empowered to use technology as a multiplying force for getting work done effectively and securely. In her current role as the Senior Manager for Marriott International's Global Information Security Awareness Program, she is responsible for leading strategy and roadmap development for program maturity, marketing and communications, and embedding information security. Her 10 years of work experience in cybersecurity also includes leading incident response and crisis management efforts both in the private and public sector. Janine will share helpful insight related to the skills you need to obtain a job in cyber.
Masterclass 4 Guest
Thu | Jan 19 | 2P ET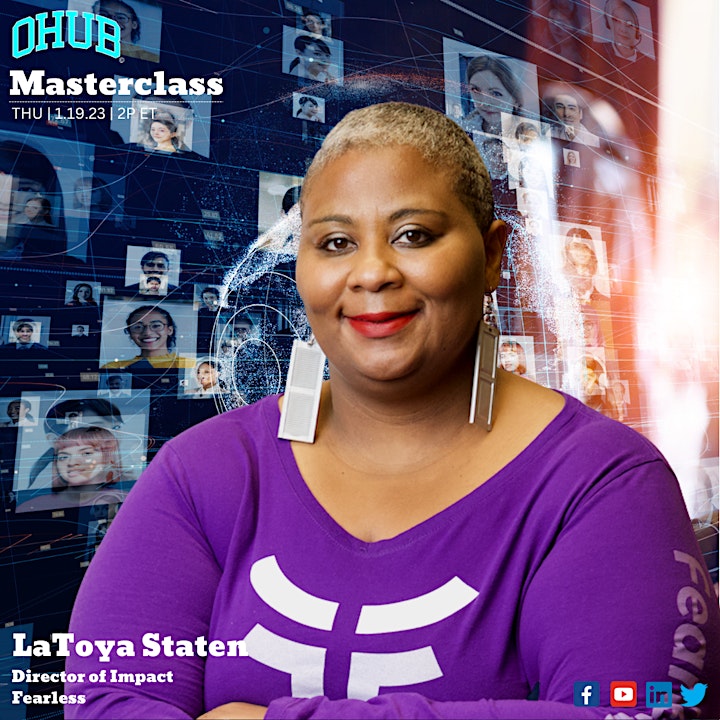 LaToya Staten, Director of Impact, Fearless
LaToya C. Staten is the Director of Impact at Fearless, a Baltimore-based tech firm whose mission it is to build software with a soul. A Certified Agile Scrum Master and graduate of Michigan State University, LaToya also holds additional certificates in Black Tech Ecosystem Investments, Technology Entrepreneurship, Cybersecurity for Leaders, Small Business Consulting and I.T. programs. She pours back into her community through service to Maryland Tech Council Board (Inclusivity-Chair), AAWDC IT Collaborative, I.Invest Youth Entrepreneurship Challenge Mentor, Visit Baltimore Education and Technology Board and BDPA-DC STEM Advisory Board. LaToya looks forward to sharing her industry background and passion in the cyber learning and development space.
Masterclass 5 Guest
Thu | Feb 23 | 5P ET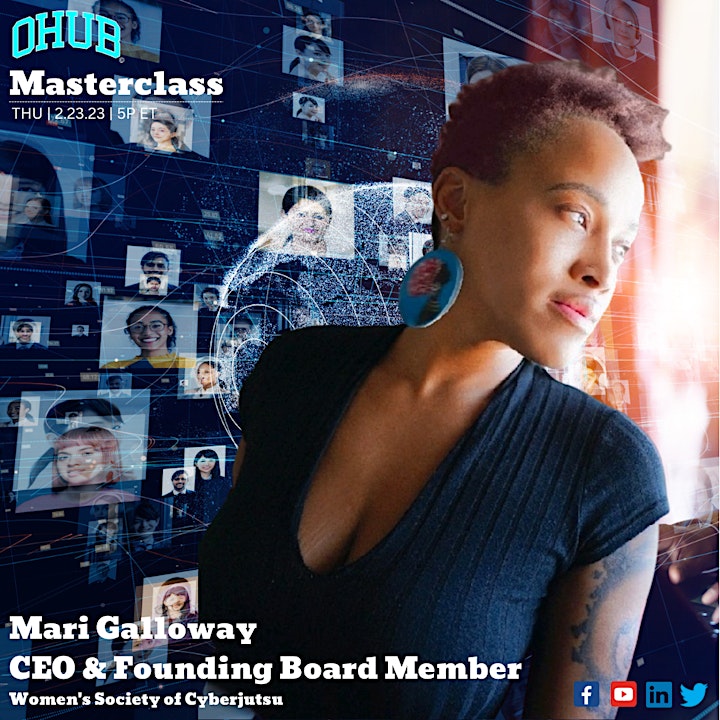 Mari Galloway, CEO & Founding Board Member, Women's Society of Cyberjutsu
Mari Galloway is the CEO and a founding board member for the Women's Society of Cyberjutsu (WSC), one of the fastest growing 501c3 non-profit cybersecurity communities dedicated to bringing more women and girls to cyber. The inaugural ISC2 Diversity Award winner for 2019 and with over 12 years of Information Technology, 10 of which are in cybersecurity, her experience spans network design and security architecture, risk assessments, vulnerability management, incident response and policy development across government and commercial industries.
Masterclass 6 Guest
Thu | Mar 30 | 6P ET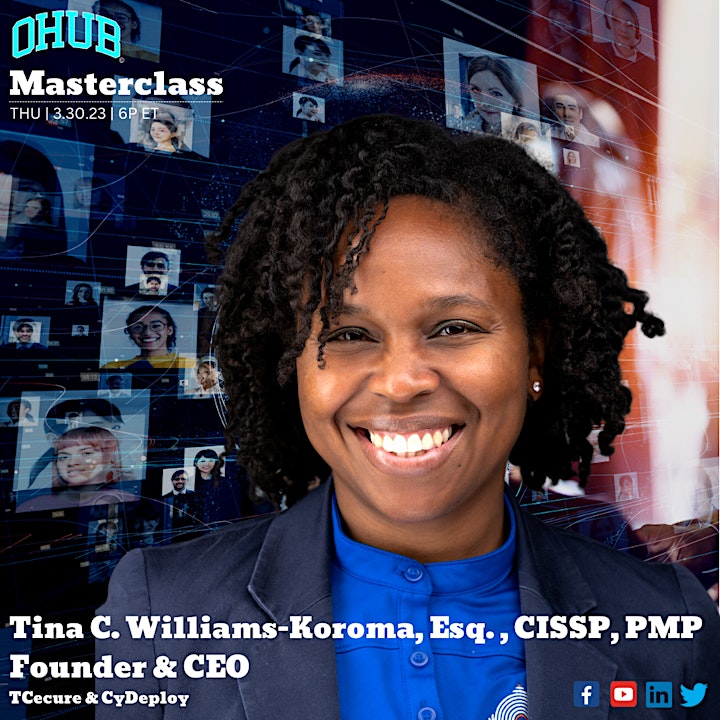 Tina C. Williams-Koroma, Esq., CISSP, PMP
CEO & Founder, TCecure & CyDeploy
Tina C. Williams-Koroma, Esq., CISSP, PMP, is a serial entrepreneur – Founder/CEO of TCecure, and most recently, Founder of CyDeploy. She is a Maryland licensed attorney and possesses a BS in Computer Science from the University of Maryland Baltimore County (UMBC), an MS in Management from Rensselaer Polytechnic Institute, and a JD from the University of Maryland Francis King Carey School of Law. This cybersecurity expert is extremely community-minded, having partnered with local institutions and contributed to several boards.
Tina Williams-Koroma is excited about her entrepreneurial ventures, and looks forward to continued growth, as she continues to equip the next generation of cybersecurity experts by supporting Science, Technology, Engineering, Arts, and Mathematics (STEAM) education initiatives.